The EuroVelo network consists of 16 long distance cycle routes for use by bicycle tourists and local inhabitants for transportation and recreation, linking the countries of Europe with cycling-friendly infrastructure. Sweden is home to four EuroVelo routes, covering over 5000 kilometers from the fells of Lapland to Skåne's sandy beaches.
The network exists to spread cycle tourism route best-practices throughout member nations in Europe, and to harmonise standards and promote bicycle tourism throughout the continent.
The existing EuroVelo network is the result of collaboration and investment by municipal, regional, national and European governments, advocacy groups and commercial actors.
Cycling is a sustainable and healthy way to travel, and cycling tourism contributes to a shift to a fossil-free transport system.
EuroVelo is a registered trademark of the European Cyclists' Federation. ECF is dedicated to promoting cycling a s a sustainable and healthy means of transportation and recreation.
https://ecf.com/what-we-do/cycling-tourism
ECF and EuroVelo are represented in Sweden by Cykelfrämjandet.
https://cykelframjandet.se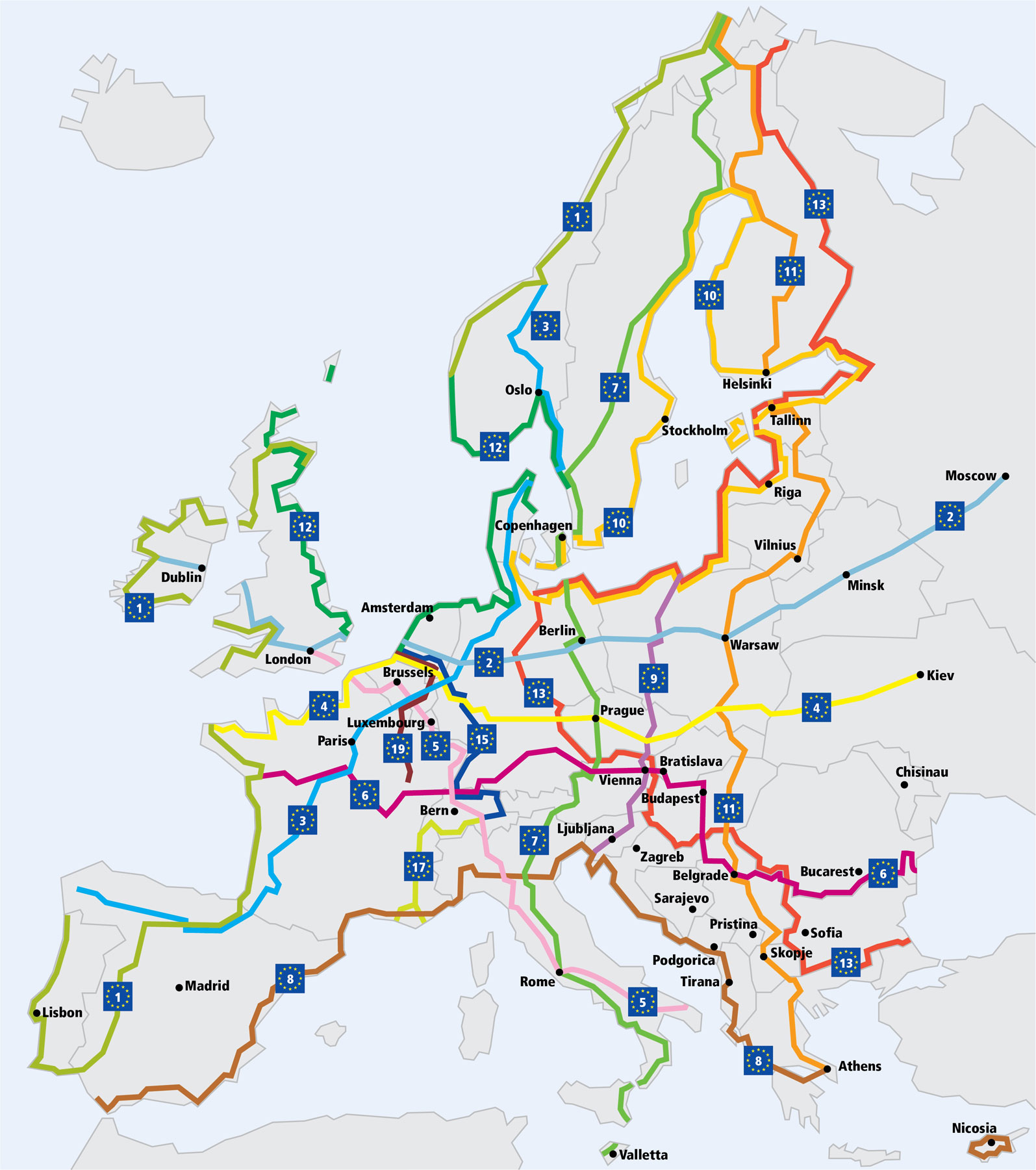 North - South Routes:
1 Atlantic Coast Route: North Cape - Sagres (8186 km)
3 Pilgrims' Route: Trondheim - Santiago de Compostela (5122 km)
5 Via Romea Francigena: London - Rome and Brindisi (3900 km)
7 Sun Route: North Cape - Malta (7409 km)
9 Baltic - Adriatic: Gdansk - Pula (1930 km)
11 East Europe Route: North Cape - Athens (5984 km)
13 Iron Curtain Trail: Barents Sea - Black Sea (10400 km)
15 Rhine Route: Andermatt - Hoek van Holland (1320 km)
17 Rhone Route: Andermatt - Mediterranean (1115 km)
19 Meuse Cycle Route: Vlaardingen - Montigny-le-Roi (1152 km)

West - East /Circuit Routes:
2 Capitals Route: Galway - Moscow (5500 km)
4 Central Europe Route: Roscoff - Kiev (4000 km)
6 Atlantic - Black Sea: Nantes - Constanta (4448 km)
8 Mediterranean Route: Cádiz - Athens and Cyprus (5888 km)
10 Baltic Sea Cycle Route (7980 km)
12 North Sea Cycle Route (5932 km)